If anyone knows about indulging in food, it's us. BUT, it's all about healthy indulgence. So we understand how difficult it might be when you're on the go, have deadlines, exhausted or just never have the time to actually create super healthy snacks. Even the seasonal traveler who comes to bask in this great city becomes busy and can find themselves wandering for hours.
There is a barrage of markets around central London and we want to give you the scoop on the healthy eateries you can step into. All the while making your day enjoyable, cost-effective and of course, guilt-free without panicking about unhealthy ingredients. As a city dweller, you want food that not only tastes great but makes you seriously feel great.
What we love most about eating foods that nourish, is that you are effectively and simultaneously losing weight. So couple that with a busy day moving about and you are bound to shed stubborn pounds while being productive.
So now that we've peaked your curiosity…
Here's an assembled list of just a few excellent options for superb juice bars, vegetarian menus and vegan-friendly spots in London that will not only satisfy your taste buds but will make you feel amazing.
This isn't just a list post. We're praising London's progressive healthy movement and growth. We encourage many cities around the world to follow suit so that everyone around the globe has the option in the future to grab healthy food on the go.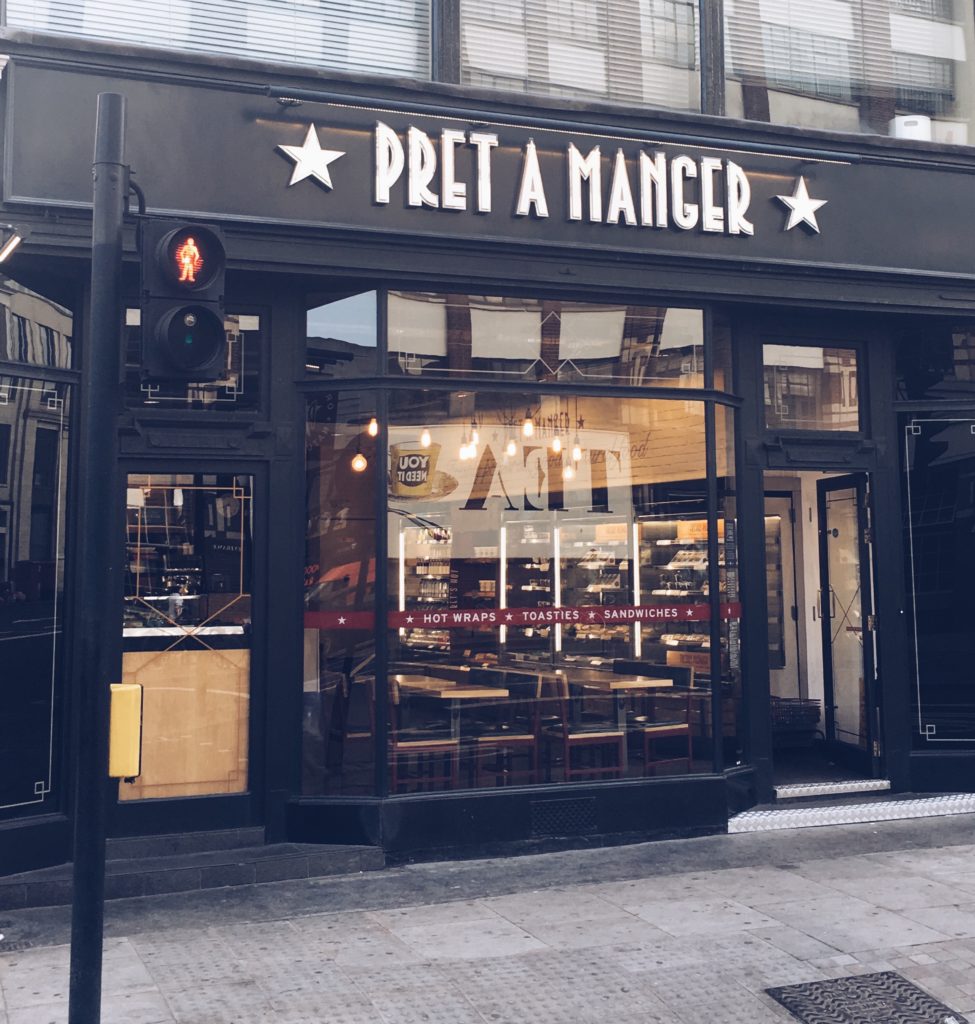 Prêt A Manger
We started with Prêt because frankly, they give busy Londoners from all over the option to eat right especially on the go. They focus on a straightforward approach to providing good natural food and "doing the right thing." We agree!
Their ethos is providing balance with a nutritious range of delicious handmade natural food. It's about staying clean and "avoiding the obscure chemicals, additives, and preservatives common to so much 'prepared and fast' food on the market today."
It can be so frustrating to always be surrounded by over-processed and unhealthy food when out about town.
"Trans- fats, weird bulking-agents, strange oils and yield enhancing drugs –not to mention bucket loads of sugar ––are sadly dumped in our foods these days."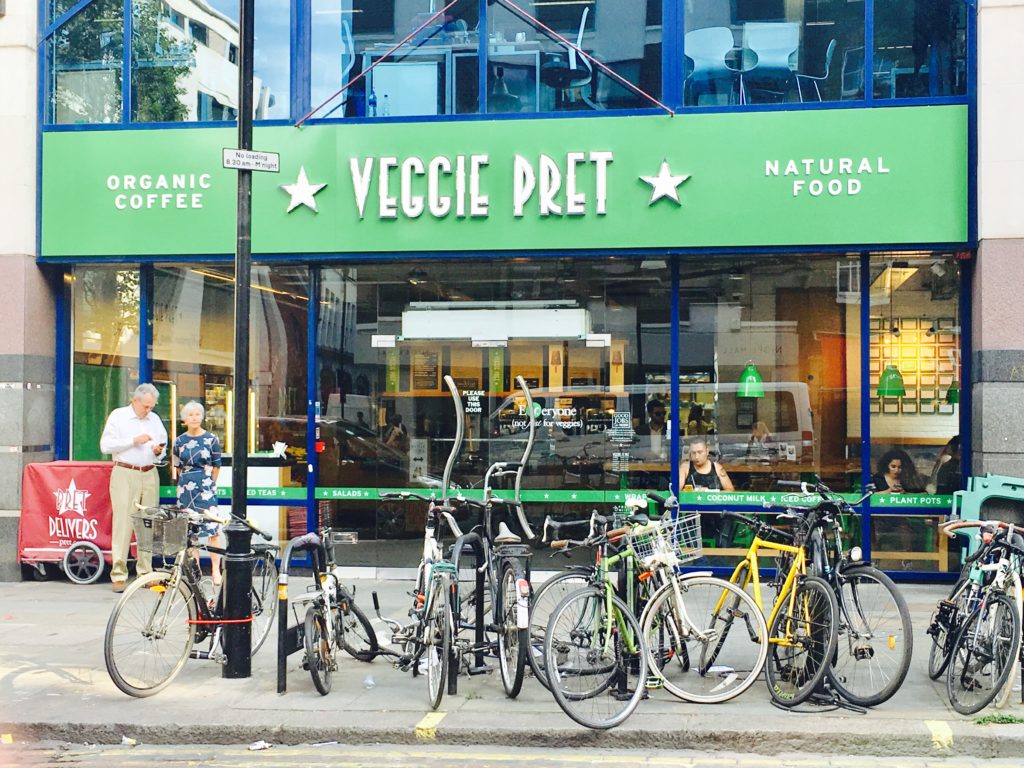 We love Prêt, because not only is ethical farming and reducing environmental impact a mission of theirs but opening a new concept shop called Veggie Prêt (Soho and Shoreditch) encourages people to avoid meat. Oh, and let's discuss how incredible their Time for Change program is. By providing Londoners the option to grab vegan or vegetarian food on the go, they have so many excellent programs that actively support individuals trying to change their lives.
Eat
Eat gives a whole new meaning when it comes to fast food. With 111 locations around London, you won't find yourself starved for healthy food on the run. Even if you want to take a minute, relax or people watch, Eat provides a good setting for that.
Each morning they start from scratch. Their menus change according to the seasons so this way you're always ordering freshly made food surely to satisfy you when you need it most.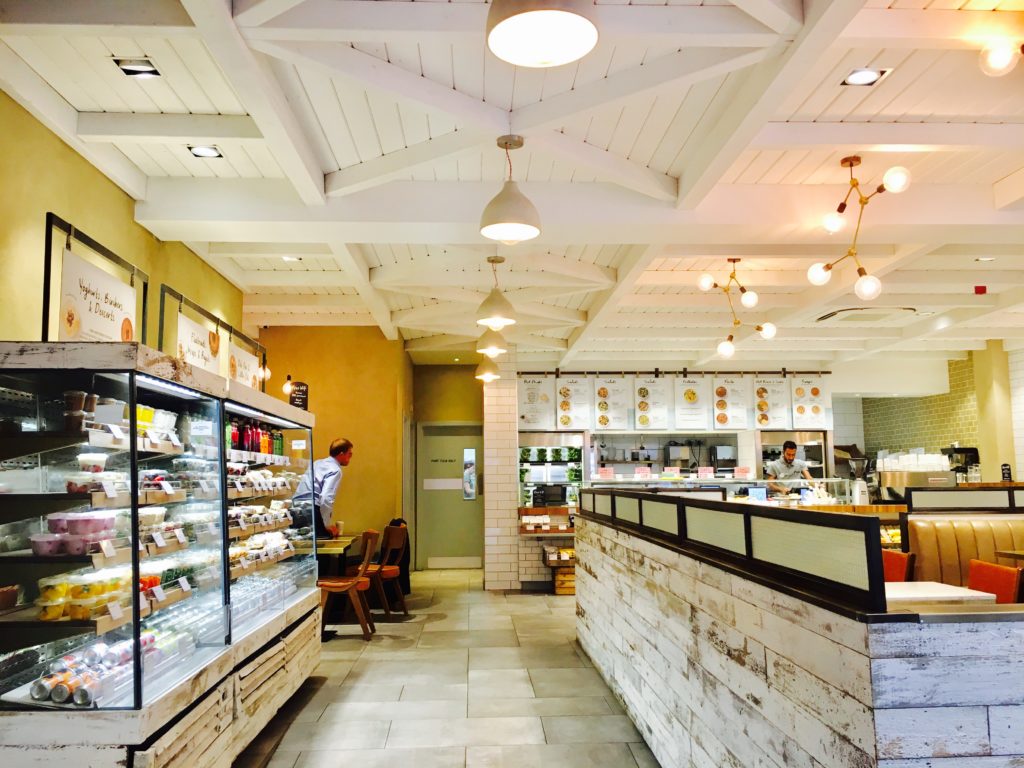 Pure
If there's one place that can combine comfy seating, a warm inviting aesthetic and wicked healthy food–it's Pure. Being committed to high standards, using only natural and fresh ingredients, this place makes food on the go an easy choice. With operating kitchens on-site allowing you to customize dishes, ingredients, and methods, it's no surprise why London love Pure.
"Free wifi, plenty of plug sockets and free still or sparkling water means Pure is set up for busy Londoners getting things done."
What more could you ask for?
Benugo
Aside from being a chic stopover for extremely healthy food, Benugo makes eating right attractive, and easy while operating under an ethos of respect for the environment. Benugo in London adopts a green policy where they properly handle waste and are committed to ethical sourcing. With customer and the eco-system in mind, they understand how operations could have an impact, which is why they showcase fresh, local and seasonal food.
Innovative, simple and extremely healthy combinations of nosh and drinks, you'll catch a serious case of #fomo if you pass up or pass by this hotspot when looking for food on the fly.
Sourced Market
"Real honest food."
More people today are understanding the importance of eating properly, but it's more than that. Eating consciously is about health, but enjoying food is so much more, which is why the many people of London find themselves at Sourced Market. This place is an excellent venue for hearty lunches, quick meals, and fun gatherings if you're not feeling rushed.
Committed to a strict no artificial ingredients and "no nasties" policy, Sourced is always sure to deliver foods filled with whole vegetables, fruits and grains every day. Cooked from scratch daily and sourced locally, the menus change with the seasons. We commend their ethos of honest, natural products that not only taste great but leaves a positive impact on our health, environment and the community.
Whether it's to socialize, work or grab something on the run, you can find yourself indulging there guilt-free.
Detox Kitchen
If you happen to end up in the most buzzing corner of central London, Detox Kitchen in Soho is a place where your body will thank you. The owner started this little nutritional gem as a way to deliver and show natives that eating food rich in flavor and dense with nutritional content is actually a thing and feeling amazing afterward is not a coincidence.
Set out to make healthy eating effortless, everything you find here is nutritious and wholesome with the right combination of quality ingredients.
It's basically "food you can trust, that will make you feel like the best version of yourself."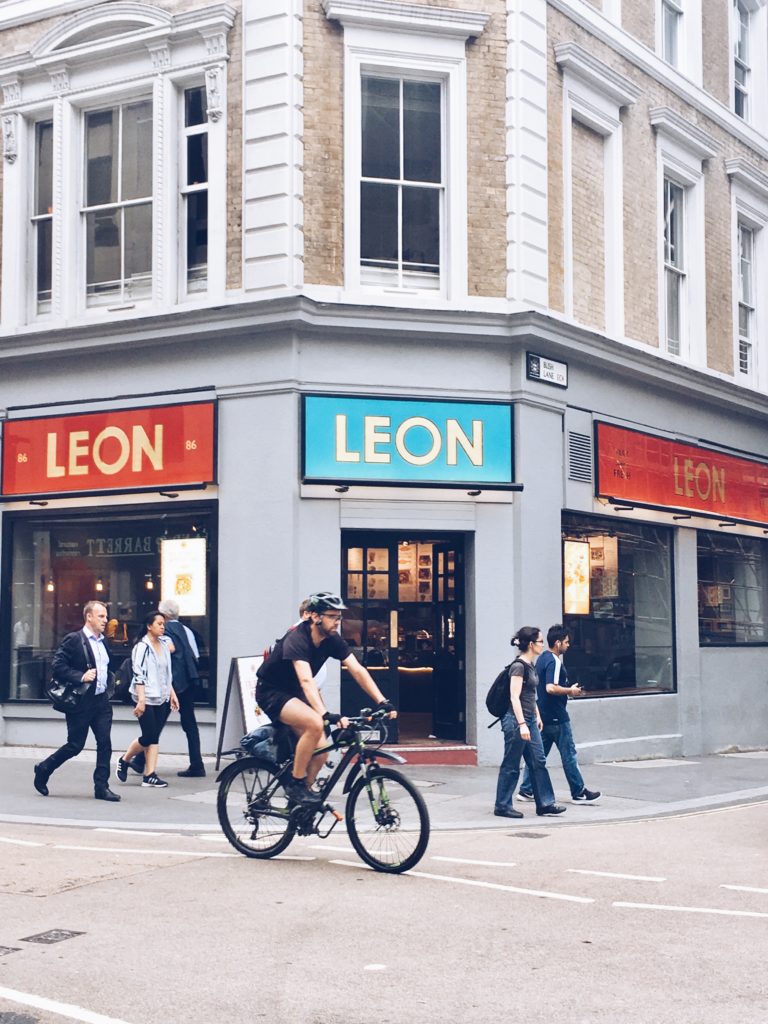 Leon
If you know London, you know Leon. But if you haven't yet, let me introduce you. Yes, we insist. Leon is a Mediterranean inspired, delicious naturally fast food and we want to shout it from the rooftops. Offering something different from the rest, Leon aims to please by providing Londoners the option to divulge in something healthy and exotic.
By practicing alternative methods in their cooking and a belief that food should not taste good but should do you good, you end up with supremely scrumptious and healthy selections.
"We look to replace butter with healthier fats such as olive oil, use spices and herbs instead of salt to flavour dishes and look to encourage more chicken and fish in our diets, with a little red meat thrown in for good measure."
Using only natural ingredients and considering there a many people with diet restrictions and food limitations, their website allows you to tick off your preferences or diet situation while promptly generating all the items on the menu tailored to you.
"We use a range of nutritional symbols to help you quickly identify the dishes we have on offer."
With a menu and standards connected to fruits, vegetables, whole grains and unrefined cereals, they make it possible for anyone to enjoy delicious healthy food on the high street.
Top notch takeout, divine decor and incredibly priced, you might opt for Leon's in London so often, you'll know him better than we do.
SaveSave
SaveSave
SaveSave
SaveSave
SaveSave
SaveSave
SaveSave
SaveSave
SaveSave
SaveSave
SaveSave